The feed industry plays such an important role in the global food industry (International Feed Industry Federation). With such a substantial foot print into the global economy, the result has left many challenges for the Mill.  One of the biggest challenges for the Mill is that there are often too many silos of information that create several entry points of data and that makes it hard to manage information in the Mill. The extra time to re-enter the information throughout the process can feel like there is a lack of inventory control at any given point.  Add those challenges to the need for increased compliance, tight margins and staff turnover and a solution is a very real need. Agriflo – Feed is a software that can add up your multiple areas of challenges and offer you solutions that you need.
Improve Tight Margins
Agriflo – Feed allows you to fully integrate a closed loop system. Which allows you to reduce your re-work but more importantly it will help you improve your margins by monitoring the work so that it only needs to be done once. This will allow you to spend time on your business rather than in your business.
Real-Time Inventory Control
Agriflo – Feed allows you to have a closed loop entry, where you will reduce your re-entry and reduce errors but more importantly will allow a real-time picture of your inventory.
Agriflo – Feed will allow you real time remote inventory control with your producers and customers.
Feed Blends
Agriflo – Feed will allow you to create feed blends in the work order process that will allow you to establish rules that will not allow the accidental mixing of batches that place your processing facility at risk.
Agriflo – Feed can establish the feed blends recurring in the work order process, and will allow you more time to focus on the Quality Assurance of your product.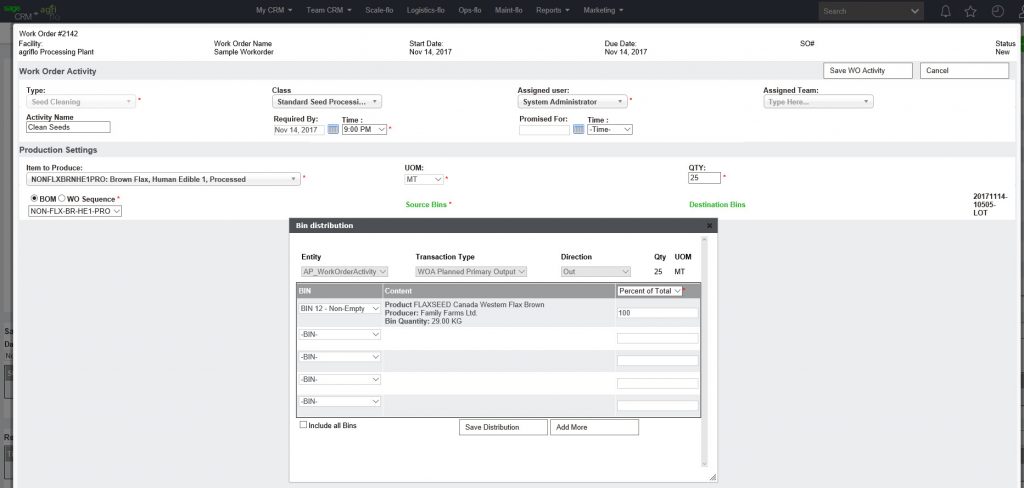 Track & Trace
Using Agriflo – Feed will allow you the capability to track and trace your product through the process, allowing you to make sure that you are providing a high-quality product that will be able to be tracked from field to trough.
Agriflo – Feed will allow you to research a recall of a lot in a timely matter, that will not take time away from processing.
Agriflo - Feed will provide you a fully integrated system that will help you increase your margins by reducing administrative workload and will allow new employees to get up to speed quickly.