There are many challenges in today's Grain industry.  As products are shipped all over the world by Rail, Ships and Trucks, there are many silos of information that have to be dealt with. This brings a huge challenge of knowing where your company is at in any given time (Position), in addition to challenging hedging strategies that are needed to make sure that you are mitigating your risk. Add the stress of knowing where your inventory is at in any given point in time and the challenges surrounding processing, cleaning and moving the grain within your facility.
  
The vast variety of processes and procedures can lead to several points of re-entering data into different systems in the elevator in order to process the information from the scale, to grading, to shipping and to rail car management.
The key to making things easier is to centralize your information within the facility.  This allows you to have real time information so that you know your position in the elevator and reduces your re-enter/ rework, in addition to reducing your time with compliance issues and reporting.
Fully Integrated
Agriflo – Grain provides a fully integrated software that will help you manage your business with real time information on your Inventory, Hedging and Logistic Management.  AG CRM – Grain has the capability to be integrated into your Automation Control System allowing the connection from the plant to the office, and helping you save time and reduce errors.
Reduce Rework
Agriflo – Grain will allow you to have a simpler work flow that manages the plant and the front office and reduces rework in to your information systems. Allowing staff to work on important tasks and still maintain their work that needs to be done daily.
Agriflo – Grain will allow you to manage all the workflows and information in one place.
Inventory Control
Agriflo – Grain will allow you to have the ability to know where you are at any point in time with your Inventory, from receiving, to processing, to shipment. This fully integrated system, allows the information to be closed looped and reduces the problems associated with too many silos of information.
Agriflo – Grain can even handle remote producer inventory through a web portal that will allow the elevator to have active forecasting that can help with decision making in the facility.
Help With Compliance
Agriflo – Grain can help you stay on top of your Governmental/ State compliance issues. By automating your processes, Agriflo will allow you to integrate your workflows and compliance. Agriflo – Grain will allow you to track and lot your samples. Allowing you a quick and simple way to stay compliant while not impacting your day-to-day operations.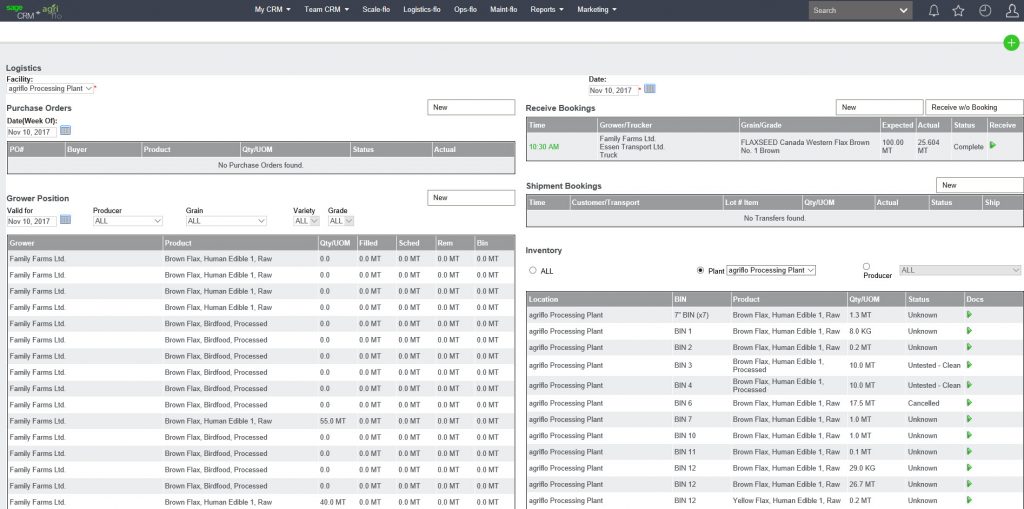 Hedging Reconciliation
One of the major challenges that occurs in Elevators and Grain processing is managing your hedging position. Agriflo – Grain can provide real time position reports allowing you to know where you are at in any given time. With a few clicks you will be able to review the current position of your facility and ensure that you are making the proper decisions in a timely manner.
Agriflo - Grain will provide you a fully integrated system that will help increase your margin while reducing time creating shipping documents by automating your processes.